Deans Art Schools Division

Deans Art is Australia's first and most experienced art, craft and design supply service operating since 1854.
Deans Art offers all educational institutions a comprehensive resource, combining quality products with expert advice.We deliver items to schools across Australia and our representatives visit junior, primary, secondary and tertiary facilities throughout Melbourne and regional Victoria.
To discuss the particular educational needs of your program, please contact our Schools Division at Preston on (03) 9485 9500 option 1 or email sales@deansart.com.au.
Our services include:
Course Materials kits

Student Achievement Awards

Bulk Order Discounts

Prize & Exhibition Sponsorship
ONLINE ORDERING
The Deans Art team are working hard on our Schools Ordering Portal.
If you are an existing schools customer please create an online schools account. If you are a NEW schools customer please complete the form below.
Our Schools Division will be in touch when we're ready to accept online ordering for Term 2, 2022.
DEANS ART SCHOOLS CATALOGUE
Deans Art is happy to offer competitive schools pricing to our Schools customers.
You must be logged into your schools online account to view discounted pricing and Catalogues.
Once logged into your Schools Online account can find a digital download of our Schools Catalogue and Term Specials HERE.
Please note when viewing schools pricing online or in our schools catalogue pricing is ex gst.
PURCHASE ORDERS
You can email your schools purchase order to sales@deansart.com.au and our team will be happy to assist existing and new schools customers. Please include your contact details so our team can get back to you in a timely manner.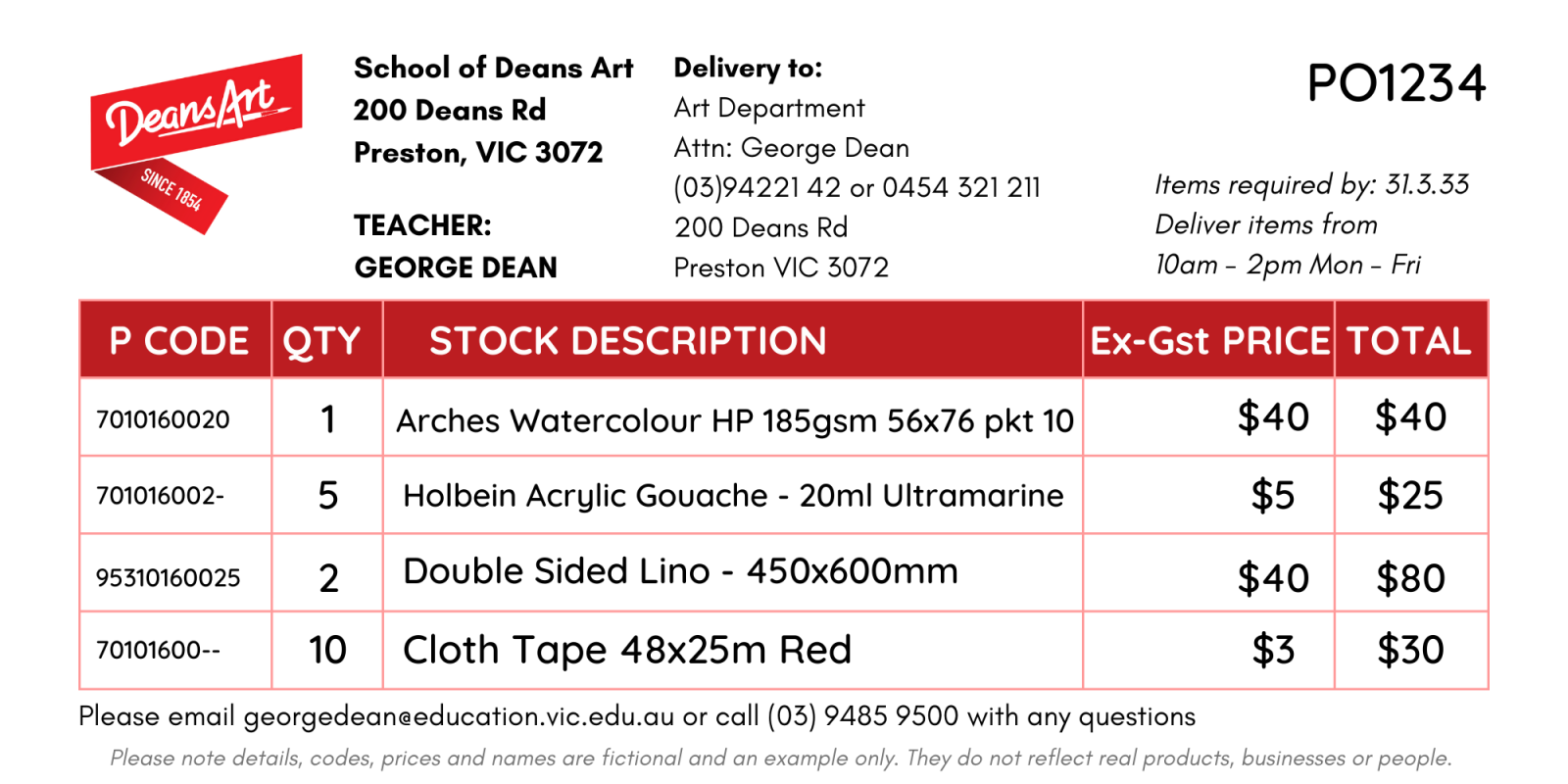 Please ensure you are familiar with our TERMS OF USE and PRIVACY POLICY before creating an online account or purchasing with Deans Art.
Our trading terms are strictly 30 days net from the invoice date. Ownership of the goods does not pass until payment is complete. All account payment enquiries should be directed to our Accounts Department on Tel: (03) 9485 9500 (select option 1) or email accounts@deansart.com.au.